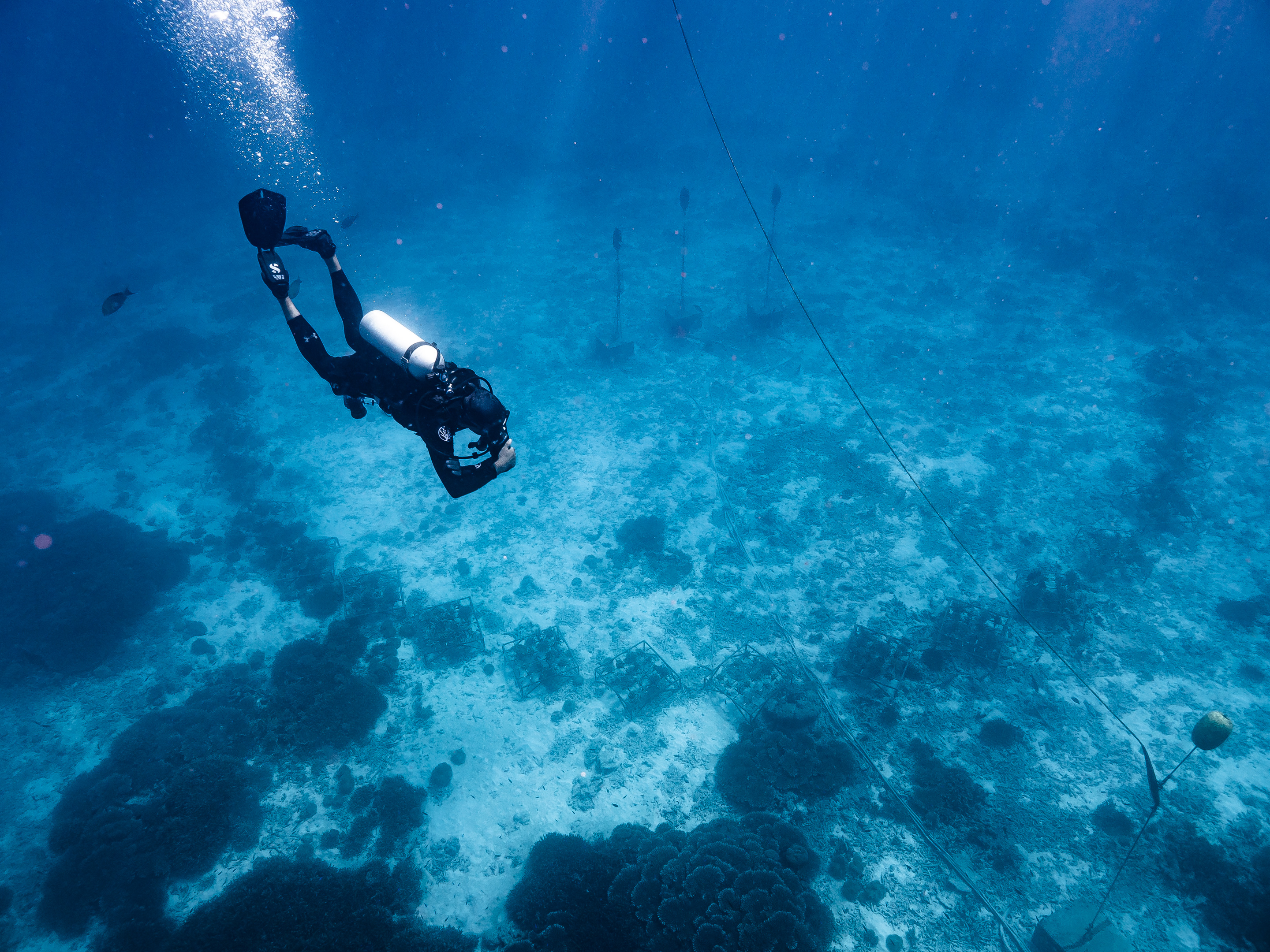 Updates from our Coral Research in the Seychelles
After months of meticulous work on Fregate Island, Seychelles, our 1 year-long coral restoration experiment comes to an end. Partnering on this project with Blancpain Ocean Commitment, we knew that Mineral Accretion Technology (MAT) would support the growth, health and survival of transplanted coral fragments. Our main goal was to optimize this technology for a more efficient and sustainable practice. This experiment, led by our Marine Biologist Julie Pezin, took into account four different species of coral, three electrification duration cycles and maintenance cleaning, with the idea of setting guidelines for future large scale coral restoration projects.
After one year, our results indicate that MAT had a positive effect on coral fragment attachment and survival, with 97% of fragments alive on electrified structures, compared to 90% on non-electrified structures, indicating that, in addition to the positive effects of MAT, our coral restoration project was an overall success.
Here, on Fregate Island, the cleaning of the table structures did not show additional benefits for coral growth, potentially due to the low algal fouling at the specific site. This implies that cleaning can be reduced or even disregarded completely without detrimental effects on coral growth, whilst saving resources and total time spent underwater.
MAT was beneficial to the growth of some species more than others, but overall, the higher growth rates were obtained under 12 hours of electrification during the night. This suggests that we can support the growth of transplanted corals efficiently using only half of electricity required.
Also, a total of 81 new colonies, of which 94% are Pocillopora meandrina, naturally established themselves on the experimental structures. These new colonies had a clear preference for non-electrified structures. However, taking into account previous studies, we expect that the substrate created by MAT will be more suitable compared to non-electrified ones once the electricity is cut off.
Additionally, since the beginning of the experiment, we observed an overall increase in fish abundance and even more so in fish diversity, which reflects that, by increasing the structural complexity of a degraded coral reef site, we provided the necessary stable habitat to the surrounding fish species.
These results suggest that, even though MAT shows clear benefits to coral fragment attachment and subsequent survival, the scheduling of electrification and maintenance cleaning can be optimized for an overall better coral growth and recruitment.
What are the next steps? Moving forward, we plan to electrify all table structures (including the non-electrified) 12 hours during the night and increase the size of the nursery by threefold. Fully overgrown tables structures will be relocated to degraded areas for rapid restoration interventions. By doing so, we would provide a suitable substrate for the establishment of new colonies, while increasing the transplantation effort efficiency.
Lastly, a further in-depth evaluation of the benefits of MAT will be assessed in the coming months, to help understand how we can combine different restoration approaches for learning purposes, and also in order to provide the best advantage to all coral species.
We also will present the findings and a poster at the International Coral Reef Symposium in Bremen from thr 3rd to the 8th of July.